Cutler-Fosque
Wellness
Owner of Triad Essence Energy & Wellness in Greensboro, a certified Reflexologist, Healing Touch and Huna Practitioner, Reiki Master Teacher and certified Medium. Also a Facilitator, Cross-over Provider, Spiritual Wellness & Accountability Coach, Teen Success Mentor, and Women's Empowerment Speaker. Wedding officiating, Notary, dance, and Weight Management services available.

Esco is co-owner of Escofhari's Holistic House, Natural Hair, Skin, Body & Holistic Living Retreat. Spiritual/Holistic Consulting, Mind, Body & Soul Wellness Workshops. Scientist & Educator of the Escofhari Institute of Holistic Science and Technology.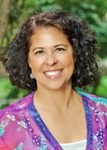 Maria Mata, RPP, BS, as a Registered Polarity Practitioner and Aromatherapist, facilitates mental, emotional, spiritual and physical healing and wellness by clearing the energy imbalances that are causing pain or dis-ease through somatic touch, talk, energetic food awareness, exercise and life choice awareness and change coaching.